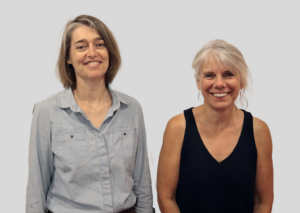 Dr. Sandra Duharcourt and Dr. Katja Wassmann
The Institut Jacques Monod is very proud to announce the election of Dr.Sandra Duharcourt and Dr.Katja Wassmann as members of the European Molecular Biology Organization (EMBO) community. Congratulations!
EMBO is an international organization of life science researchers with over 1900 members elected by their peers. EMBO's main objectives are to support talented researchers at all stages of their careers, to stimulate the exchange of scientific information and to contribute to the creation of a European research environment in which scientists can carry out their best work.
Overview of Sandra Duharcourt's career:
1998 PhD in Molecular Genetics at Sorbonne Université Science
2002 CNRS research fellow
2010 Habilitation à diriger des recherche at Sorbonne Université Science
2011 Creation of the "Epigenetic regulation of genome organization" team at the Institut Jacques Monod
2015 CNRS Research Director
2022 CNRS Silver Medal
2023 Elected EMBO member
Overview of Katja Wassmann's career:
1996 PhD in biochemistry and cell biology at University of Vienna, Austria
2005 CNRS research fellow
2007 Habilitation à diriger des recherche at Paris Sorbonne University Science
2007 Creation of the "Meiosis and its mechanisms" team at the Institut de Biologie Paris Seine
2022 Lab team set up at Institut Jacques Monod
2023 Elected EMBO member