.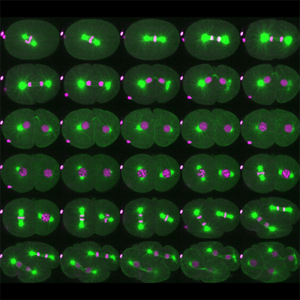 The Cell Cycle and Development team aims to acquire new knowledge to decipher the mechanisms of cell division to understand the mechanisms of cancer, a disease resulting from uncontrolled cell division.

The team mainly uses the nematode C. elegans as a model system and employs a multidisciplinary approach combining various approaches (biochemistry, genetics, imaging, proteomics) to ask questions at different scales, from the molecule to the organism. As the mechanisms of regulation of cell division are conserved between species, the team is also studying the emerging paradigms in C. elegans in human cells.

Keywords: Cell division – Mitosis – Meiosis –Kinases – Microtubule-severing enzymes – Nuclear envelope breakdown

.