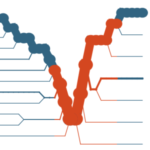 The BioInfo club brings together scientists from the University of Paris (Institut Jacques Monod, BFA and Epigenetics) who wish to develop their skills in bioinformatics.
We learn to analyse and manipulate various data, using the Linux command line, Python programming and other suitable tools.
We meet on Thursdays from 10am to 11am.
Contact: Virginie Courtier, +33 (0)1 57 27 80 43 / virginie.courtier [at] ijm.fr / pierre.poulain [at] ijm.fr /
See more information and the calendar on the dedicated website.